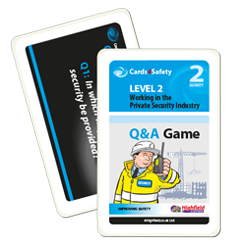 Cards4Safety Level 2 Working in the Private Security Industry Q&A Game
Ideal for group icebreakers and to get learners talking and thinking
The perfect - and fun - way to check knowledge and revise
Delivers on the key learning outcomes of the qualification
Feedback from employers and learners is consistenty fantastic
£6.30
excl. VAT
£7.56
inc. VAT
Buy 5
save £22.20
Best Value
£5.80
excl. VAT
£6.96
inc. VAT
Buy 11
save £55.44
Cards4Safety are a fun-to-use group training method that can really motivate and inspire learners.
These full-colour card games support entertaining group activities and can invigorate training sessions.
An attractive and engaging design brings an aspect of fun to any classroom session. They can be used as reinforcement and revision or as an alternative to a mock examination....
Read more
Product

Full-colour card games to support learning.