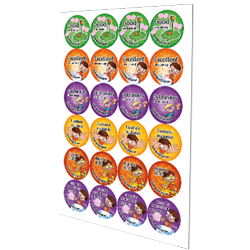 Great for nurseries, playgroups and schools to encourage
Demonstrates the importance of hand hygiene
Incentivises and rewards good handwashing practice
Fun and quirky design
The importance of good hand hygiene should never be overlooked. ZombieGerm's hygiene heroes Seb and Pands aim to instil this message into young children!
These cool and colourful stickers, which feature a ZombieGerm, and Seb and Pands, are ideal for issuing to your own little monsters as proof of their handwashing prowess. They're designed to offer a fun and frightful little incentive to youngsters who demonstrate top-notch hand hygiene....
Read more
Product

ZombieGerm stickers