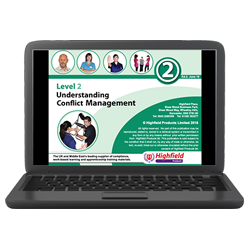 Level 2 Understanding Conflict Management Training Presentation
Covers key conflict management strategies
Effective training for managing conflict in the workplace
Improved training delivery
Interactive and customisable
Available as a digital download
Do your staff know how to effectively manage conflict within the workplace? Are they equipped with the skills and conflict resolution strategies to de-escalate an emotive situation and feel empowered to make the right choice?...
Read more
Published

2nd edition, July 2018
Update added in January 2021
June 2018
Provides an explanation of updates made to the Level 2 Understanding Conflict Management Training Presentation in June 2018.
---