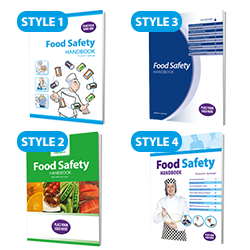 Personalised Food Safety Handbook
Covers all level 2 food safety knowledge points
Enhance your training delivery
Choice of 4 colours and 4 different styles
Provide food handlers as a food safety reference guide
FREE front cover personalisation on orders over 250
Best Value
£1.50
excl. VAT
£1.50
inc. VAT
Buy 500
save £50.00
The UK's leading level 2 food hygiene book has now been available for over 30 years, and has sold more than 5 million copies! Written by food safety expert Richard Sprenger, the Food Safety Handbook has an easy-to-read style combined with a practical approach.
Topics covered in the Food Safety Handbook include:...
Read more
Author

Richard A Sprenger

Format

A5 paperback, gloss finish

Illustrations

Full-colour illustrations & photos

Published

March 2022, 37th Edition
Update added in June 2021
December 2018 Updates
An addendum of updates which should be used alongside the 35th Edition of the Handbook.
---