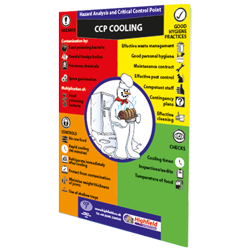 Helps remind staff of key information with clear, practical guidance
Colourful, impactful images
Fully laminated, great for fast-paced environments
Ideal for kitchens and training rooms
Critical control points (CCP) are the important steps that form the food handling process. They are the points at which controls should be used to limit or eliminate any potential food safety hazards.
This colour and engaging poster, is great for putting in training rooms or around your workplace to recap to staff the main critical control points for cooling....
Read more
Production

Printed in full-colour and laminated