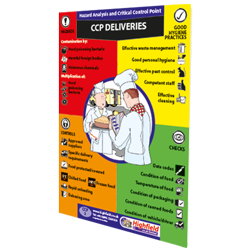 Poster 02 - CCP Deliveries
Ideal for reminding staff of best practice
Colourful illustrations that stand out and highlight key points
Great for training or as a reminder
Laminated for additional cleanliness and hygiene
Critical control points (CCP) are steps in the food handling process. They are the points at which controls can be applied to reduce or prevent any potential food safety hazards.
This colourful, laminated, A3 poster is ideal for use as a training aid or around the workplace to remind people of the critical control point of deliveries.
Its eye-catching design reinforces key messages around CCP in deliveries, and clearly explains the main issues and what needs to be done....
Read more
Production

Printed in full-colour and laminated