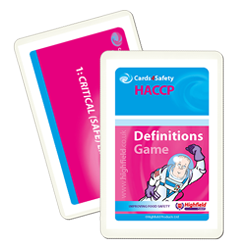 Cards4Safety Level 2 HACCP Definitions Game
Covers the key learning outcomes of Foundation HACCP courses
Ideal to help your learners get to know each other
A fun way to revise or check knowledge at the end of the course
A constant favourite with our customers
£6.60
excl. VAT
£7.92
inc. VAT
Buy 5
save £23.40
Best Value
£6.05
excl. VAT
£7.26
inc. VAT
Buy 11
save £58.74
An engaging group training resource to motivate learners.
Highfield's popular full-colour card games support engaging group activities and can help to invigorate your training sessions.
With an appealing and eye-catching design, they bring fun and interactivity to your classroom sessions, and can be used for reinforcement and revision of knowledge, or even as an alternative to mock examinations....
Read more