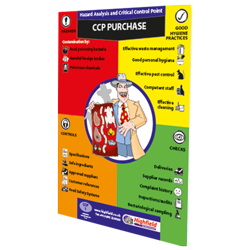 Reminds your staff of best practice with colourful guidance
Practical, easy to follow guidance
Fully laminated, great for fast-paced environments
Ideal for kitchens and training rooms
Critical control points (CCP) are the important steps in food handling process. They are the points at which controls should be applied so as to lessen or stop any possible food safety hazards.
This colourful, laminated, A3 poster is great for your training lessons or just around the workplace to ensure people are reminded of the critical control points around purchase....
Read more
Production

Printed in full-colour and laminated