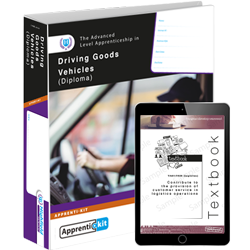 The Level 3 Diploma in Driving Goods Vehicles Highfield-kit
Part of our popular range Highfield-kits
A genuinely innovative way to support learners
Contains both a textbook and workbook
Genuinely enhances the learner experience
This Highfield-kit has been written to support learners taking the diploma and covers wide-ranging sector-based scenarios and activities to support and enhance learners' understanding and achievement.
The kit has been developed to support learners taking the Level 3 Diploma in Driving Goods Vehicles. It includes both a textbook and a workbook for each of the three mandatory units of this qualification
The following units are included in this Kit:...
Read more